Level Up Your Nature-Inspired Interior Design

So, you have an upcoming project that you wish to incorporate into some nature-inspired interior design?

Great idea! Nature-inspired interior designs are evergreen and well-loved by everyone. They add stunning elements to any decor concept and boost creativity and positivity levels.

As an interior designer, your unique tastes and skills make your designs stand out from the rest. You may have your own flair for adding nature to your design and so…
What level of nature-inspired interior design are you at?
Level 1: The Camouflage Designer
Do you often approach design problems with beautiful structures that need to hide undesirable sights? You always find a way to make the best out of certain situations like a bulky pillar or an ugly wall, that cannot be removed.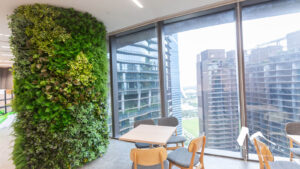 A lovely green wall made of an array of artificial plants and flowers can be installed to cover up a structural column and instantly brighten up the space.
Turning awkward columns inside an office into refreshing natural galleries packed with preserved moss, shrubs, ferns or flowers.
Level 2: The Soothing Designer
Do your clients come to you for designs that make their clients feel relaxed and stress-free? You like to soften spaces with some greens or nature-inspired designs.
A green moss wall added to a gym to soothe the hectic exercising environment, and bring encouragement to users with a motivational message.
A picture-perfect green landscape just right outside the window of a landed property to bring in the positive vibe to everyone within the home.
Level 3: The Spatial Designer
Are you the kind of designer who works with large spaces or likes to make small spaces appear massive? Your nature-inspired interior design allows you to create that illusion of space in almost every nook and cranny.
Moss art installations fitted into walls bring an extended dimension into the space similar to the effect of using mirrors.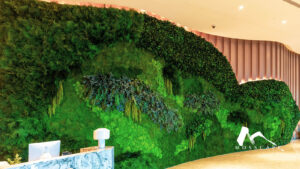 A brilliant trick that catapults any hall into a vast scenic space by introducing a lush rainforest design element.
Level 4: The Eden Designer
Is your primary design instinct to offer your clients a piece of paradise in the form of decor? You like to reimagine the project's space into a green paradise that you alwayss dream of.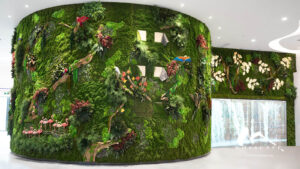 A forest full of life, diversity and vibrancy reimagined with a vertical garden of preserved moss, foliage and flower.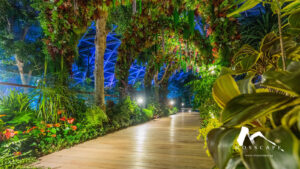 A stunning walkway surrounded by arches of beautiful live and artificial plants that makes visitors feel as if they have been teleported into an enchanted garden.
Leveling up your nature-inspired interior design
Of course, every design depends on the space, budget and decor objective. There are also limitations posed by the environment too!
Not all indoor areas are ideal to grow live plants for these nature-inspired interior designs. Preserved plants and mosses are the perfect substitute for real plants with many benefits. Preserved greenery does not require sunlight, watering, pruning or regular maintenance. It is economical, longer lasting and often, much more beautiful!
The key to a good green installation is choosing an experienced supplier. No matter how amazing your green decor concept is, you need a proper supplier to help you implement your vision. A reliable and resourceful supplier will even advise you on what works best and direct you to overcome any problems or limitations.
Mosscape – Your choice supplier of preserved and artificial greenery
Mosscape is the top supplier for a variety of preserved and artificial plants, moss, flowers and foliage in Singapore.
We have provided for green installations at Jewel Changi Airport, Marina One, National Library Board, OCBC, Pfizer, Singapore Management University and more!