Natural & Lifestyle Decor Store Shopmosscape Turns ONE

Shopmosscape is turning ONE this month! We thank everyone for your tremendous support towards the store and hope to continue providing you with the fine selection of natural and lifestyle decor for many more years to come.
Bringing nature closer to more people
Mosscape's goal has always been to bring nature back to the modern city and let people enjoy the beauty of nature, even in indoor spaces. Our work at Mosscape has helped many companies incorporate green elements into their workplace by creating various customised biophilic interior solutions.
Over the years, we realised that many people out there, not only businesses, want green or natural decor for their own homes or spaces. The need for natural indoor decorations from individual consumers rose, especially during the Covid-19 pandemic.
That's what got us to start Shopmosscape, an online store selling natural, nature-inspired and lifestyle decor. We hope our customers can get closer to nature through our thoughtfully curated products. Be it the lively potted plants, creative preserved nature decor or vivid animal figurines, all our products serve one purpose: to enrich your space and bring nature back to you.
An extensive collection at your fingertip
Shopmosscape's products have grown from a small collection of preserved nature decor and animal sculptures to a wide range of living and workspace decor. We continue to bring in exciting products so our customers can conveniently shop for everything they want at the click of a mouse.
Preserved nature decor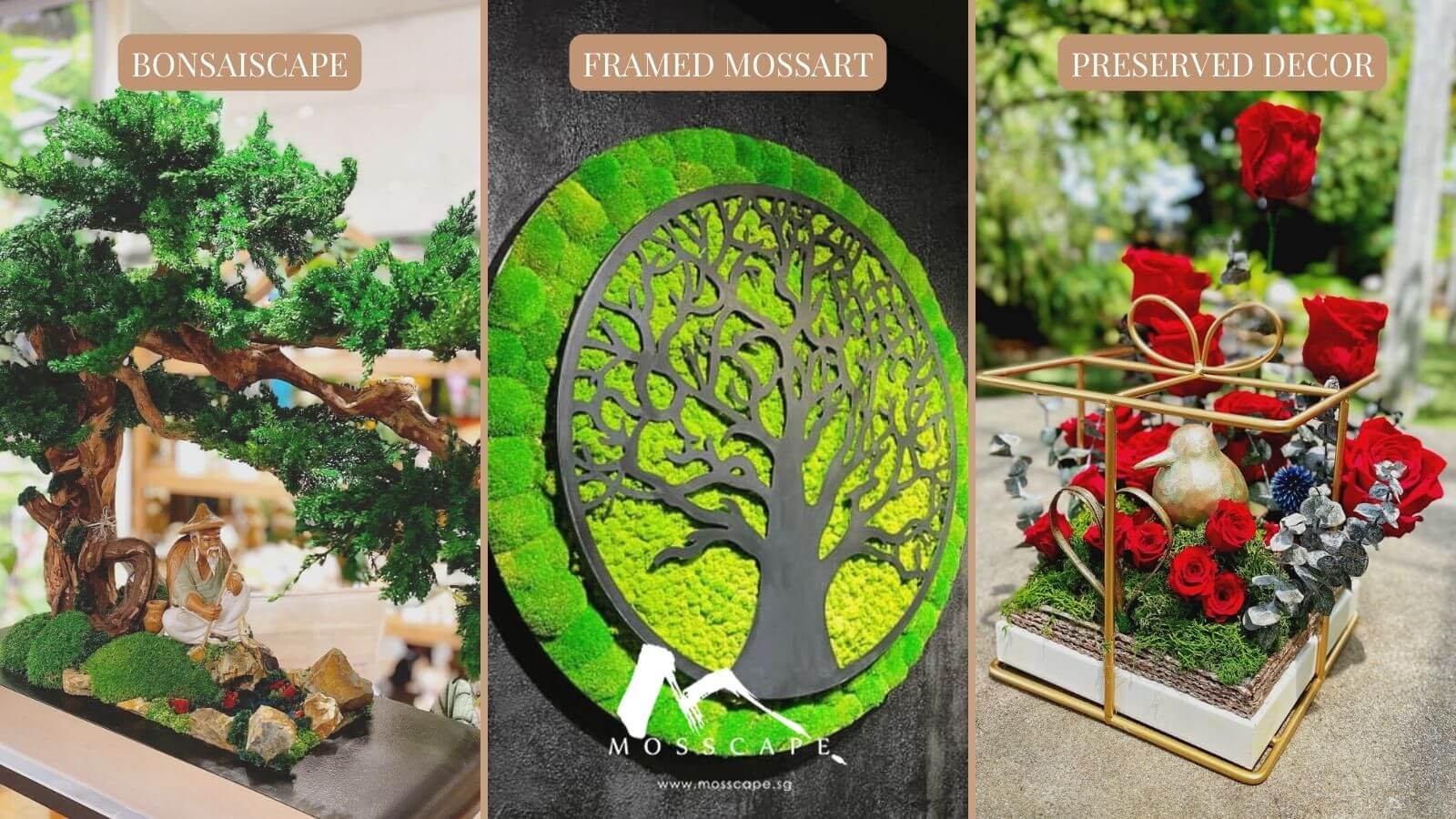 Bring home a slice of nature with our collection of preserved nature decor! Preserved with a plant-based solution, these natural decors are evergreen and need no maintenance except for the occasional dusting. Choose from the brilliantly sculpted Bonsaiscape, intricately framed moss art or exquisitely curated preserved decor…
Animal figurines and sculptures
A very popular product line that features lifelike animal sculptures made with quality resin! Whether you're looking to add an adorable pet or a majestic safari animal to your garden, you can find them all at Shopmosscape.
Lifestyle decor
Transform your home into a stylish sanctuary with furniture and decor of your choice. Choose from the minimalistic Zen decor, soothing water feature, or refined home decor and furniture…
Live potted plants
For customers looking for indoor plants, we've curated a collection of live potted plants suitable for growing under partial or indirect sunlight. Whether you're looking for a tall, short, big, or small plant, you can find them all at Shopmosscape.
Personalise your experience with us
Unable to find the natural decor that you want? Shopmosscape lets you customise or personalise the designs for some of our products, such as the framed moss arts. Simply send a message to our team, and we'll get in touch with you to understand your needs!
Or, you can also choose to add a personal touch to your natural decor with our Moss Art Workshops! We've recently resumed this popular activity to let friends, family and loved ones come together to express their creativity in creating moss art masterpieces. The workshops are held on Tuesdays and Saturdays, 11.30am and 3pm at our Paragon store – book your tickets at Shopmosscape!