Endless Possibilities with Preserved Fresh Flowers & Greenery
What exactly is 'Preserved Greenery'?
Preserved greenery is a horticultural wonder. It is an innovation that lets you enjoy all the benefits of indoor plants without the hassle and cost of maintenance. The best part with preserved greenery is that the flora and fauna are 100% natural yet don't need any maintenance!
Preserved fresh flowers are a trend that is catching up fast in Singapore. Across homes, offices, showrooms, and other public places, preserved fresh flowers are occupying a place of pride, embellishing the décor and ambience of the space in which they are placed.
Different flowers and plants are preserved using a specialised process that enables them to retain their natural look and feel for a long time to come without the need for air, soil or sunlight; an occasional dusting and you are good to go!
Possibilities with preserved greenery
When you bring a slice of nature into your home or office, it calls for the right combination of imagination and practical application. Depending on your space configurations and personal preferences, you can opt for one of the many installations for preserved nature given below:
Beautiful preserved fresh flowers
Preserved flowers are indistinguishable from fresh flowers owing to their aesthetic appeal, smooth texture and soft natural feel.
From the regular rose to exotic varieties such as hydrangea and carnation, the collection is wide and varied. Depending on personal preferences or the symbolism associated with flowers, you can opt for several installations such as hanging/suspended installations, door wreaths, domes, wall hanging and pedestals.
Lively foliage
Preserved foilage essentially includes fillers, leaves, branches and greenery.
Add peppy botanical accents to your space with graceful, real-touch preserved foliage. Place them in the lobby, atrium or corridor; wherever you choose to put, they infuse a sense of liveliness and are a great addition to any room or specific location!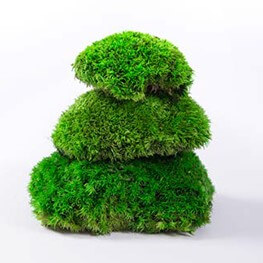 Magnificent moss
Dried and preserved moss varieties include pole moss, flat moss, reindeer moss and many more.
Preserved moss can help enhance the built environment, both aesthetically as well as functionally. When it comes to installations, you can choose from the simple to the dramatic, including custom and branded moss walls, view-concealing kitchen panels, vertical garden in the courtyard/patio, moss art for accentuating the rustic countryside look and more.
Tempting trees
Preserved trees help to create an ambience that epitomises one or many attributes: status, liberation, vibrancy, revival, glamour, or accomplishment.
Whether you wish to immerse the space with a tropical feel, desert atmosphere or a holiday ambience, you can opt for the installation of your choice. Take your pick from our selection of palms, plants and trees!
How do we do it?
Preserved greenery entails an elaborate process. Freshly harvested plants are treated with a plant-based and 100% biodegradable preservation liquid. It replaces the sap and water within the plant, forming a still-image of nature to create our beautiful vertical garden walls.
Our unique embalming process endows the plants with a long-lasting natural appearance. In fact, our preserved vertical moss gardens remain unchanged for months without watering, being practically maintenance-free. Neither the plants will grow nor will they wilt lose their freshness and aesthetic appeal. The only maintenance you will ever require is the occasional dusting.
Mosscape makes preserved greenery easier and better
Mosscape is one of Singapore's premier landscape services providers. We specialise in artificial greenery and preserved nature to help transform plain rooms into lively spaces anchored in soothing greenery. We work with clients through a collaborative approach: understanding their needs, preferences and budget. Our love for nature is the driving force of our business –  ensuring you only get the best preserved nature from us.
Looking for preserved fresh flowers or greenery in Singapore to spruce up your living or office space?
Get in touch with us